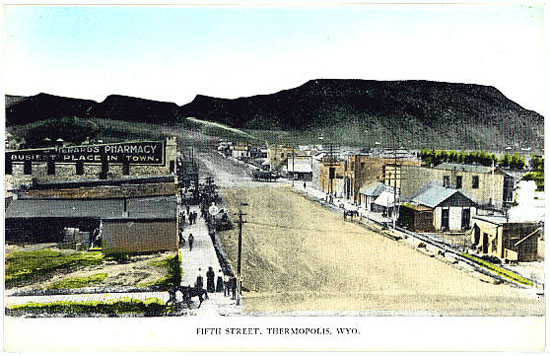 Fifth Street, Thermopolis, 1908

Hot Springs County at one time was a center for coal production. Coal was first discovered in the area in the 1880's by Henry Cottle, John Jones, and Charles W. "Dad" Eads. Eads was later convicted of horse theft. On appeal, he argued that the jury was prejudiced against him because he was the father of the outlaw Kise Eads. the first mine was the Jones Mine opened in 1889.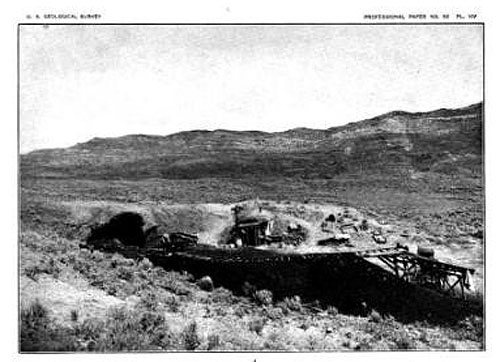 McDonald and Cottle mine, 1903.

Mines opened in Gebo and Cosby, now ghost towns, about 1906 and continued operation until the late 1930's. At their peak during World War I, they were important to the war effort. Thus, Augustine Kendall, State Fuel Administrator during the war, later recalled that one of his tribulations was the maintenance of production in the mines in the area:
During December, 1917, we received complaints from the operators in Hot Springs County that the saloons at the coal mines were open day and night, demoralizing the labor force and causing a decrease in production. We requested Col. George M. Sliney, Fuel Administrator for Hot Springs County, to investigate and do everything possible to regulate the disturbing element. Colonel Sliney took vigorous action and regulations were passed by both the Civic and County Authorities closing the saloons from 11:00 P.M. to 7:00 A.M. and all day on Sundays. This had the desired effect for a time but it was necessary to continously guard against the abuse of liquor causing a decrease in production. The mines in Hot Springs County are located in a bleak and desolate section, practically a desert, and opportunities for amusement and recreation are limited.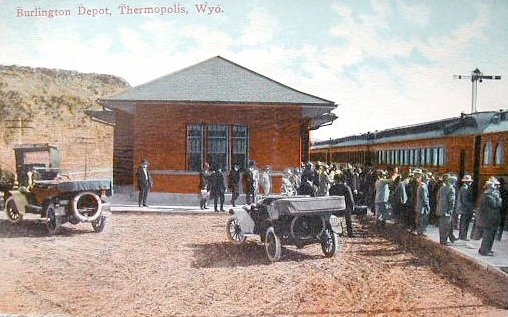 Burlington Depot, Thermopolis, approximately 1918

Notwithstanding its early isolation, Thermopolis owes its fame to the hot springs which were given to the state by treaty with the Shoshone and the Arapaho in 1896. A condition was that the springs would be made available to the generl public without charge. Even today, use of the State Bathhouse is without charge. The Springs are the world's largest warm mineral springs.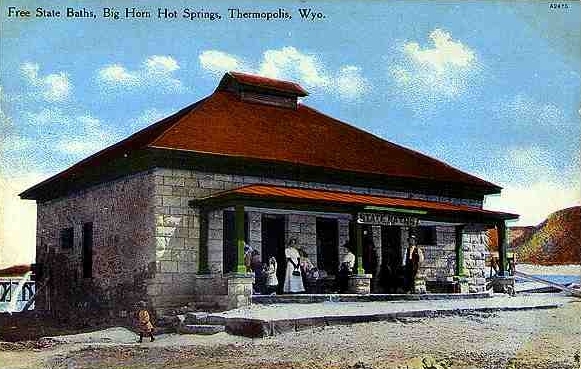 State Bathhouse, Thermopolis, approx. 1908

Foreground, State Bathhouse. Beyond, the McGannon Sanitarium. approx. 1908.
The McGannon Sanitarium held forty beds. William McGannon also owned at one time the Pleasant View Sanitarium. In 1916, a suspension bridge was constructed to connect the Big Spring with the Fremont Spring, the Pleasant View, and the Elk Pasture. Later the suspension bridge also proided access to the Hopewell Hospital. The Hopewell later became the first county Hospital.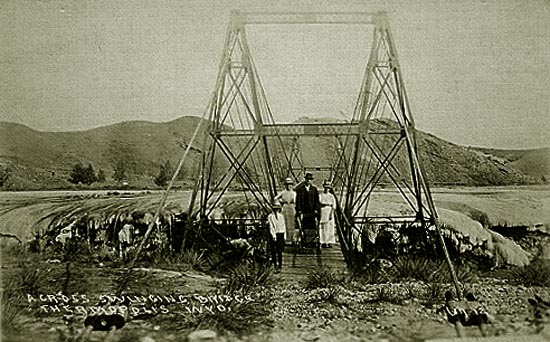 Suspension Bridge.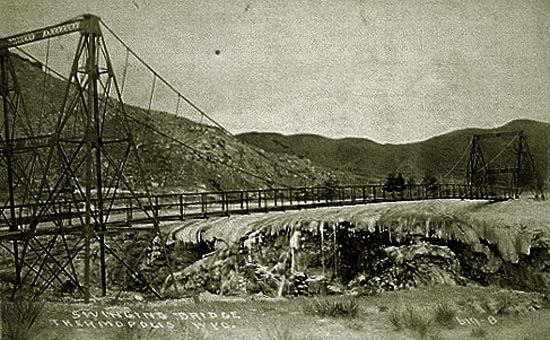 Suspension Bridge.

The original suspension bridge was condemned in 1984 and removed by the Wyoming National Guard in 1991. The following year it was reconstructed.

Next Page Thermopolis continued.