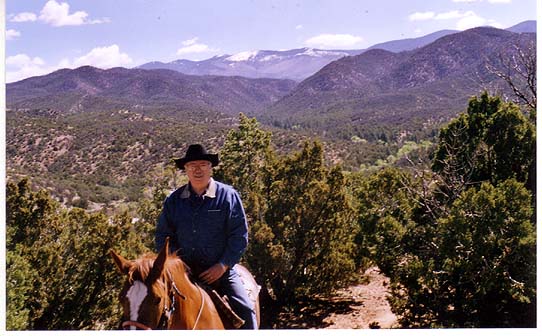 The writer on Caddy

Copyrights.

This site is, as the title implies, devoted almost exclusively to the history of Wyoming as told through photographs. Except as noted, the original photos shown are believed to be in the public domain. It should be noted, however, that as with all historic photographs, multiple claimants to copyrights may exist. A derivative copyright is claimed as to changes and digital corrections made to the original photos, but consent is given for reasonable use. Accordingly, if a reader plans to use a photograph, independent due dilligence is recommended. If photographs are used from this site, the courtesy of credit to wyomingtalesandtrails.com will be appreciated. If copyright is claimed to any photos, kindly advise by E-Mail to cuna66@aol.com and at your option they will be removed or credit given. We regret that we are unable to make available archival copies of the photographs on the site. In some instances, we can make available a higher resolution digital copy or give advice as to the location of an archival copy. Copyright is claimed as to the text, but consent is given for use, provided that credit is given to either Wyoming Tales and Trails or the undersigned. Reciprocal links are considered for non-commercial sites reflecting on the history of Wyoming.

The photos on linked sites are owned as indicated on such sites. Therefore, pictures in those collections should not be downloaded and saved without consent as required by such site.

Navigating this site.

The header at the top of each page is an extremely abbreviated index to the site. Not all pages are listed in the header. For a complete list of all pages use the Table of Contents. At the bottom of each page are a "Previous" and "Next" button which follow the order given in the Table of Contents. A complete Index is in progress and will be added when completed. Unfortunately as this site grows, the Index is a "moving target."

Dates

Where an exact date is given, i.e. August, 1916, it is the date the photograph was taken. Where a year is given, i.e. it is a date written on the photograph, or if taken from a postcard, the year of the postmark and, therefore, the photograph may in fact be older. If the year is shown as approximate i.e. 1930's, 1920's, it is an estimate based on the contents of the photograph itself, usually automobiles.

Textual Information

Utmost effort has been made to assure accuracy in textual information. As with all historical information, differences in versions may exist. Thus, as examples, the writer has seen three different versions of the story of the murder of the stranger featured on the Lusk page. The version given there relies on court records. Another example is the derivation of the nickname "Butch" as referring to Butch Cassidy. Most sources give the derivation as a result of his working as a butcher in Rock Springs. At least one other source gives another account. If a reader spots an item believed to be inaccurate kindly E-Mail us. The bulk of information given on the opening page is linked and not a part of this website. The textual information given on the remaining pages was all written by us and we take responsibility for it, typos, misplaced modifiers, and all.

Future Additions to site

New photographs and information are added on a regular basis. Since this site was first launched, August 19, 1999, it has grown from four pages and 36 photos to, as of this date, some 1,000 photos. Currently less than one-third of our collection is posted. Thus, if a reader is interested in a photograph of Wyoming not depicted, inquiry is welcomed.

Also planned are additional photos of schools, particularly in smaller towns. See photo of Hudson, Wyo. School below. By the turn of the century many fraternal orders were represented in the state with the Masonic Order and Odd Fellows Orders having lodges in most cities and towns. By 1902 the Elks had lodges in Sheridan, Rawlings, Rock Springs, Laramie and Cheyenne. The Improved Order of Redmen was well represented in the state, but regretably the Great Council has few if any records pertaining the Wyoming. If you are a member of a fraternal order and have historical photos you would like to share, please advise. I am particually interested in the Grand Army of the Republic which during the 19th Century was the largest organization of its kind in the U.S. and which had 11 posts within the state. For those interested in photos, the Central Pacific and the Union Pacific collections, for which copyrights are claimed, are highly recommended. Your comments and suggestions for additions to this website are appreciated.

Privacy.

We do not share or disclose E-Mail addresses or the names of individuals corresponding with us. After, an E-Mail has been fully responded to, it is deleted.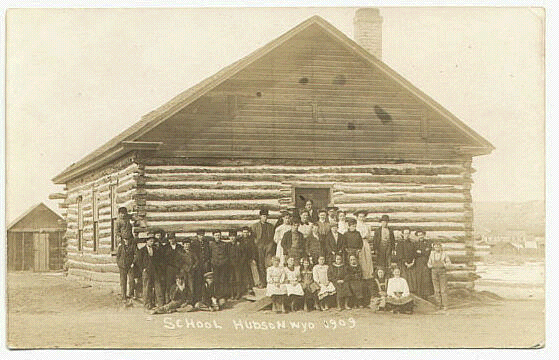 Hudson School, 1909

G. B. Dobson, August 27, 2011.