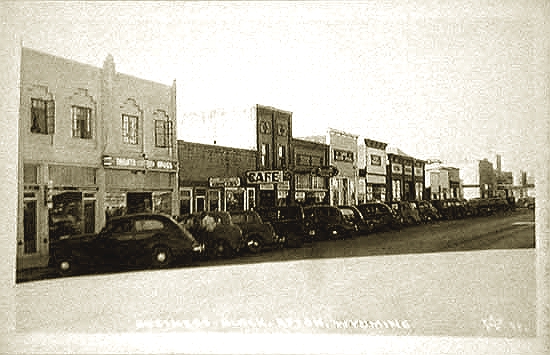 Afton, 1930's
In addition to Mormons fleeing the enforcement of federal anti-plural marriage laws, the isolation of the Star Valley valley attracted outlaws. Thus, both Butch Cassidy and Matt Warner sojourned in the Star Valley. As late as 1900, Heck Reel, an owner of the Spur Ranch near La Barge, pursued rustlers into the valley. But even if the law remained outside the area, politicians in search of votes were able to find their way in. Longtime Congressman Frank Mondell later recalled one early campaign with Heck Reel's sister, Estelle Reel:
As we drove into the little village of Afton in the rich mountain-rimmed Star Valley, we were met by a pleasant capable appearing man who bade us welcome as Mayor and Republican committeeman. After these salutations he said smilingly that he thought we ought to know he was a polygamist, in case that might affect our attitude. We assured our friend we were not disposed to question the propriety of his family affairs and would be glad to accept his hospitality. Thereupon our party partook of a fine supper in the modest home of very pleasant and comely wife No. Three, and thereafter, leaving Miss [Estelle] Reel with her, the remainder of our party was comfortably housed in the larger homes of Wives One and Two.
This peculiar situation perhaps requires some explanation. When the federal authorities began action against the polygamists in Utah, the fathers of such households naturally sought means to escape prosecution without abandoning their families, and there came a transplanting of families into the adjacent states.Frank W. Mondell, My Story, Wyoming State Tribune, September 6, 1935
Estelle Reel (1862-1959), later Mrs. Cort F. Meyers, was the first woman elected to a state-wide office in the United States. She came to Cheyenne after being educated in Boston and Chicago. In Cheyenne, she was employed as a school teacher and was elected Laramie County School Superintendent after allegedly "sassing" the school board when she told them that they had no right to dictate where she went to church, bought her clothes, or boarded. In 1884, she was elected on the Republican ticket as State Superintendent of Public Instruction. According to K. Tsianina Lomawaina, "Estelle Reel, Superintendent of Indian Schools, 1898-1910: Politics Curriculum, and Land," 35 Journal of American Indian Education, May 1996:
Opponents complained that Miss Reel won because she mailed a photo of herself, a picture of considerable charm, to all the lonesome cowboys in Wyoming. It was an aprocryphal story which dogged her the rest of her political life. She detested it, and denied it at every opportunity."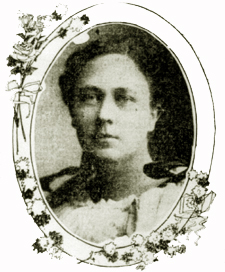 Miss Estelle Reel

Indeed, the story which apparently started in the Chicago Times and was repeated in the New York Times, December 26, 1894, has continued to dog Miss Reel more than 50 years after her death, being repeated in the Star-Tribune Feb. 28, 2004.

Part of Miss Reel's duties also included serving as Registrar of the Land Board and Secretary of the State Board of Charities and Reform. In 1886, it was rumored that she was under consideration as the Republican nominee for Governor but she took herself out of the running. Miss Neel was credited with helping the McKinley ticket carry the state and in 1898 was appointed as the federal Superintendent of Indian Schools, the first woman appointed to an office requiring confirmation of the Senate. In that position she served until 1910.

Although Miss Reel was described as a "vivacious" "pretty pink cheeked blonde," she apparently was unwilling to take guff from anyone, man or woman. She described one trip as Indian School Superintendent to Fort Washakie. The best rig and team at the livery was one pulled by "a pair of gaunt, rawboned, black livery horses:"
After breakfast we started on the final day's trip. The road is rough and rocky, leading between scrubby firs, winding through the Red Canyon, where the red dust is ankle deep, and turning sharp comers, where if you swerve to the right or left a few inches, you would go down, down hundreds of feet. About two o'clock the horses began to give out and "Norway Pete" began whipping and swearing at his team. I had taken a driver, as my companion an eastern man, was afraid to trust himself to my driving.
I could not endure seeing the horses abused and told the driver to stop beating them, but he was not inclined to listen to me, and I fiercely turned upon him and threatened to shoot him dead in an instant, and he turned about ten shades redder than his hair and thought some of jumping off the box. My companion begged me not to shoot the driver and I finally consented not to, if he behaved himself for the rest of the trip.
Both Miss Reel and her brother Alexander H. "Heck" Reel acquired property in what was to become Lincoln County. Heck Reel arrived in Cheyenne about the same time as the railroad and operated a Livery Stable. He served as mayor of Cheyenne at the same time as his sister served as State Superintendent. Later he and Ralph M. Freind were owners of the Spur Ranch at La Barge.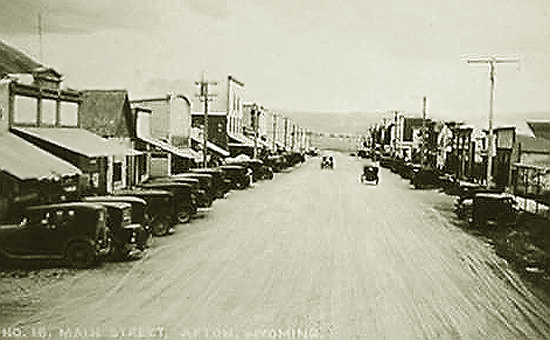 Afton, 1931

Others ventured into the valley. Most of the settlers in the valley were small stockmen, some with herds of milch cows. By 1904, the valley had three creameries. Large sheep herding companies began to come into the valley for summer lambing. In 1900, Covey & Sons, a major sheep company from Salt Lake City drove a band of an estimated 20,000 sheep into the valley. The sheep dispossed much of the area previously occupied by the cattle. As a result, accoding to settlers A. Lue Hall and Byron H. Allred, Jr., there was insufficient hay to see the cattle over the winter and the cattle were unmarketable. In 1901, the sheep companies agreed between themselves to divide up much of the range. Covey and Sons started to bring into the Valley an estimated 30,000 sheep. When confronted, Covey advised Hall and Allred that Covey & Sons had been allocated one-third of the territory in the valley north of Crow Creek and, when asked what they had left for the cattle owned by the ranchers, responded that they had forgottedn to consider "this unimportant matter" It was, Covey said, now too late to give this coveted range to anyone but Messrs. Covey and Sons.

The rsponse was short in coming. On May 20, 1901, the headlines in the Deseret Evening News read:

CATTLE AND SHEEPMEN COLLIDE.

____________

Former with Masked Faces and Drawn Rifles, make a Descent
Upon Latter, Causing a Loss of $10,000 to Covey
& Sons of Salt Lake

The purpose of the masks and guns was, according to the cattle ranchers, to prevent violence. As a result, after a second confrontation, Covey & Sons withdrew.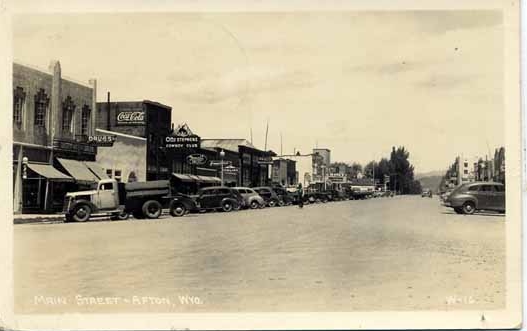 Afton, 1942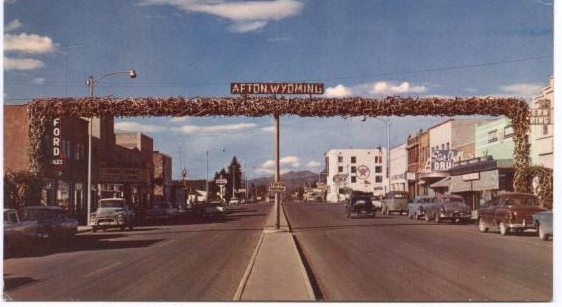 World's longest Elk Antler Arch, Afton, approx. 1959

Construction of the arch, with donated antlers, started in June 1958. The arch was completed in July 1959. The arch, weighing about 15 tons, contains some 3,011 antlers, is 75 feet wide and 18 feet above the street.

Next page: Pinedale.