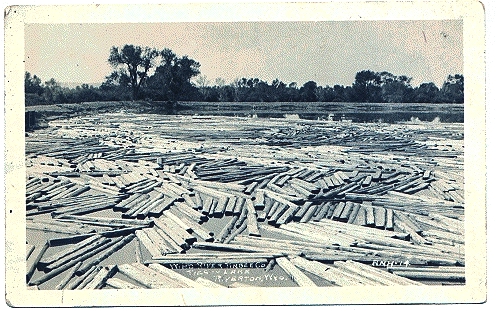 Ties near Riverton
Beginning in 1914, Riverton became a primary shipping place for railroad ties for the Chicago and North Western. The ties would be floated down from above Dubois by the Wind River Timber Company.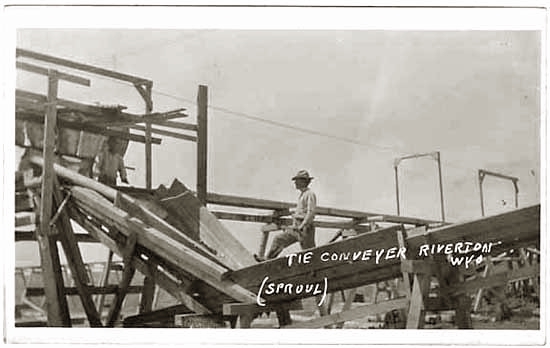 Conveyor for railroad ties near Riverton. Photo by C. E. Sproul.
During World War I, with control of the railroads by the federal government, the tie industry declined. Following the war, the railroads were again returned to their private ownership and, thus, production of railroad ties again picked up. In 1920, with financial backing from the railroad, a Chicago businessman, Ricker Henry Van Metre, gained control over the timber company and changed its name to the Wyoming Tie and Timber Company. Gradually, the production of ties was mechanized and the days of hand hewn ties ended. The last timber drive down the river was in 1946. Thereafter, the ties were transported by motor truck until production ceased in 1960 and the company converted to sized lumber, such as 2 x 4's.
In 1928, an anniversay of the founding of the area was celebrated with, among other things, a giant tent dance. The tent, erected in the street and described as being 100 ft. long, had various displays and a dance floor on one end.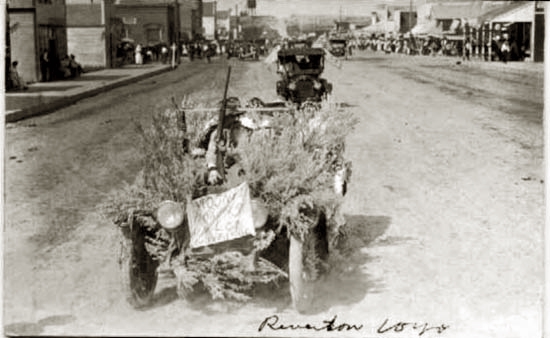 Parade, approx. 1928.
The sign on the front of the vehicle is for Mooney's lot auction. William M. Mooney was an early settler of Riverton.

Riverton, Main Street, approx. 1939
The hotel on the left is the Teton Hotel constructed in 1917. In 1985 it was converted into apartments. For another view of the Teton, see next photo.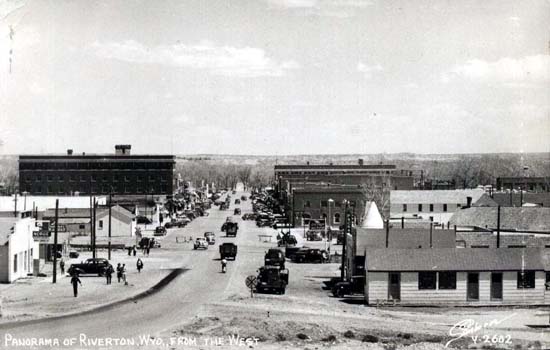 Riverton looking east, approx. 1947.
The sign on the small white false-fronted building on the left advertises Norge appliances.
Next page: Dubois.