Gillette roundhouse, 1912.
As the railroad moved west, however, the boom ended and by 1894 the commissary had closed and there were only 1 restaurant, 2 saloons, 2 stores (Preston Bros. and the Daly Store operated by John T. Daly, see photo at top of page). The saloons provided varying entertainment. Thus, Ferenc Morton Szasz, in his The Protestant Clergy in the Great Plains and Mountain West, 1865-1915, University of Nebraska Press, 1988, cites a sign displayed at one Gillette saloon:
Preaching at 7:30 P.M.
Dance at 9:00 P.M.
After Dance, Big Poker Game.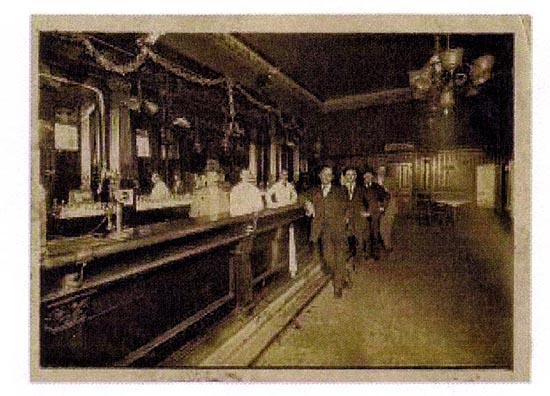 Interior Gillette Saloon, approx. 1900.
But at least by that time there was preaching. The Right Reverend Anson R. Graves in his The Farmer Boy Who Became a Bishop, the New Werner company, Akron, Ohio, 1912, relates of having sent a missionary into Gillette: "Some four or five years ago I sent a missionary to the little village of Gillette, Wyoming, to spy out the land. He reported that there were not only no Church people there, but none who cared for Christian services of any kind." Indeed, Bishop Graves complained that he had an easier time amongst the heathen than on the western Great Plains.
With the railroad, however, Gillette became a major shipping point for wool and cattle, serving large cattle companies such as that of Gilbert de Saumarez Hamilton (1857-C.1924) and to the southwest Oscar K. Keeline's and Harry W. Keeline's Flying Circle headquartered on Little Thunder Creek in Weston County. The Hamilton ranch was established in 1891 by Hamilton and Gordon Montcrieffe. Hamilton's mother was a member of the Saumarez family of Guernsey (Channel Islands). His father was the managing partner of the SoHo works established by James Watt of steam engine fame. With the growth, municipal improvements such as the water works were able to be installed.

Pumping Station for Gillette Waterworks, 1912.
Thus, within a few years, Bishop Graves was able to preach a sermon, and conduct confirmations in Gillette. In actuality, the Roman Catholics had a visiting priest who delivered a mass in 1892. A Catholic Church was not constructed, however, until 1907.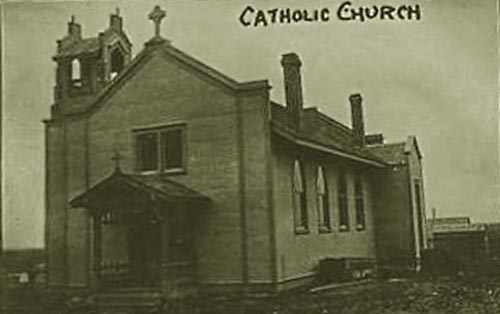 Roman Catholic Church, circa 1910

,p> The Church was located on two lots on Main between 6th and 7th Streets purchased for $175.00. The first church in Gillette was the Baptish Church constructed in 1902.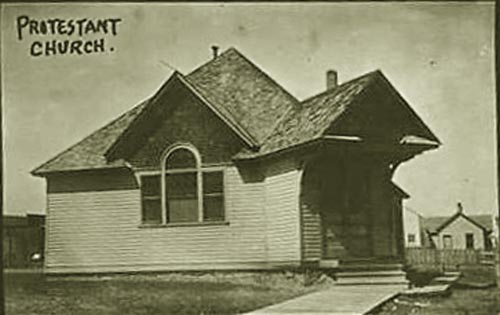 Protestant Church, circa 1910

The Episcopal Church was organized in 1912, but relied on visiting priests.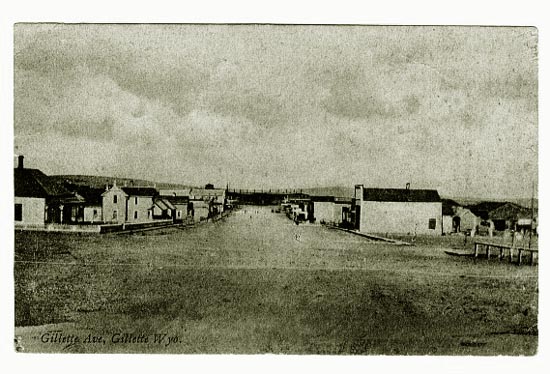 Gillette Ave., 1909. Compare with later photos of Gillette Avenue on next page.

Next page, Gillette continued.